Compaction Grouting with American Foundation & Waterproofing
American Foundation & Waterproofing has many ways to repair sinkholes and restore the strength and stability of the surrounding soils. Compaction grouting is our preferred method of soil stabilization. Our Knoxville-based sinkhole contractors start by pumping cement into the ground through steel casing, using the high pumping pressure to fill the voids and pores in the weakened limestone. Once those voids are filled, we compact and compress the loose soil above by adding additional cement. Starting at the deepest part of the affected limestone, we'll begin to extract the steel casing while continuously pumping concrete. This helps ensure the soil is tightly compacted and stable from the limestone layer all the way up to the topsoil.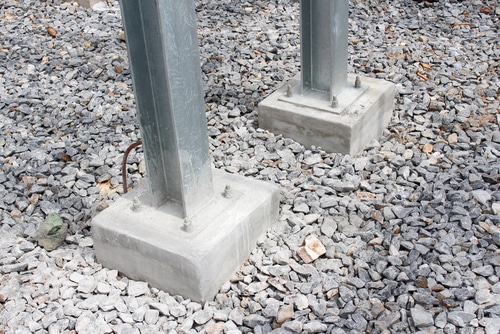 How Surface Compaction Helps Stabilize Soil
Surface compaction is done by pumping cement into the upper 5" to 10" soils. We inject a small steel casing and begin injecting the cement-based grout using low pressure and low volume so we have more control over the outcome. American Foundation & Waterproofing's sinkhole contractors can also use chemical grouting with either an epoxy or polyurethane resin for shallow-surface compaction. This process is great for small indents or shallow holes that are starting to appear, but if you're dealing with a full-blown sinkhole, it will require the full compaction grouting process outlined above to address the root of the issue.
Why Repair a Sinkhole?
If you've noticed a sinkhole forming near your home—even if it's far from your foundation—it is vital you address the issue quickly. Sinkholes will continue to worsen with time, eventually causing significant damage to your lawn, landscaping, and even to your home itself should they continue to grow. Avoiding repairs will more than likely lead to even more costly repairs down the line, and because sinkholes have been known to cause disastrous problems to residential and commercial foundations in Tennessee, Georgia, and North Carolina, they should be dealt with as soon as possible. Safeguard the structural integrity of your home by contacting American Foundation & Waterproofing for your sinkhole repair project.
Contact American Foundation & Waterproofing
Our compaction grounding team in Knoxville consistently strives toward quality customer service and effective, long-lasting solutions for customers throughout Tennessee, Georgia, and North Carolina. To learn more about our sinkhole contractor services or to schedule a free inspection and estimate, contact us at 865-982-0250.