THE SIGNS AND CAUSES OF BASEMENT WATER DAMAGE
Most homeowners understand the importance of protecting their basements from water damage. It's essential to keep basements dry and protected from outside water to ensure they will remain functional for storage or additional living space. However, many basements succumb to the pressure that comes from heavy rainfall or melted snow. Musty smells, condensation, and wet walls are just some of the signs that external water is leaking into your basement. While plumbing issues or sump pump failure can sometimes cause basement leaks, hydrostatic pressure is another common cause. This pressure occurs when the soil around your basement absorbs excess water. The foundation often can't handle this pressure, so the water will eventually leak through cracks in the concrete walls. If you've noticed signs of water in your basement, it's important to contact an expert who can identify the cause and recommend an effective solution, like our basement drain tiles. American Foundation & Waterproofing has many years of experience serving the Chattanooga metro area, and we can help protect your basement from water damage with our basement waterproofing services.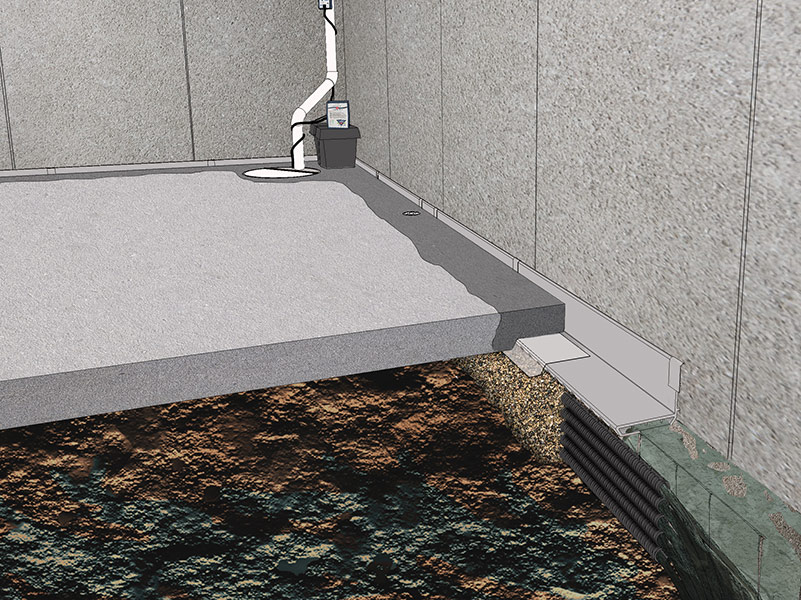 BASEMENT WATERPROOFING WITH THE SAFEDRAIN™ DRAIN SYSTEM
The SafeDrain™ Drain System is a simple and effective solution that will keep your basement dry and protected. Our team of experts can install this perimeter drain system in your Chattanooga area basement. The system directs the flow of water to your sump pump and away from your home's foundation. SafeDrain™ provides a low-profile, wide design, which protects foundation walls from hydrostatic pressure. A rubber seal helps seal out moisture and other gasses from the soil. This basement drain tile system will keep your Chattanooga area basement protected from water for many years to come.
Homeowners in Tennessee, northern Georgia, and western North Carolina have long trusted the team at American Foundation & Waterproofing to protect their basements from water damage. We have the experience needed to identify the cause of water intrusion and recommend a long-lasting solution. If you're interested in basement waterproofing services in Chattanooga, contact American Foundation & Waterproofing today to schedule a free inspection!