HOW DOES WATER ENTER YOUR BASEMENT?
For many homeowners basements serve as functional spaces for either additional storage or living areas. However, basements can also be susceptible to water damage because of their location within the home. Heavy rainfall or melted snow can absorb into the soil around your home and potentially leak into your basement. Condensation, wet walls, and musty smells are just some of the common signs that water is entering your basement. Cracks in your floor or walls, plumbing issues, or sump pump failure can all be to blame for water entry in your basement, though one of the most common reasons is hydrostatic pressure. As the soil around your basement becomes saturated with water, pressure builds against the foundation, and water can seep through cracks in the concrete walls. If you've noticed moisture in your basement, it's important to identify the cause and talk with an expert to find a solution. The team at American Foundation & Waterproofing in Knoxville can find the right foundation waterproofing system that can keep your basement clean and dry.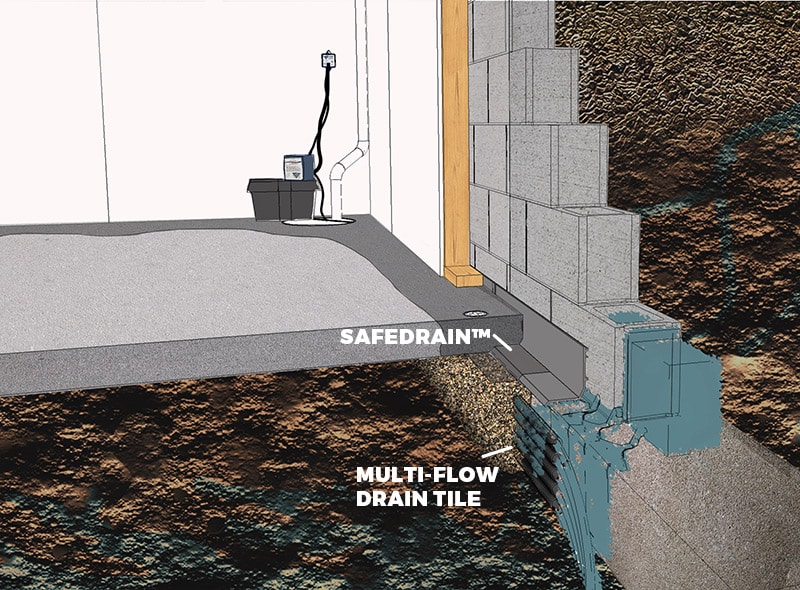 WATERPROOF YOUR BASEMENT WITH THE SAFEDRAIN™ SYSTEM
We can help protect your basement with the SafeDrain™ Drain System. Our Knoxville team can put in a foundation waterproofing system around the perimeter of your basement, which allows for more water to flow through your sump pump system and away from your foundation. The low-profile, wide design combats hydrostatic pressure and seals out moisture and gasses from the soil with a rubber seal. A drain system is a simple and effective solution. SafeDrain™  keeps your Knoxville home's basement dry so you can enjoy your space and protect your home for many years to come.
The experts at American Foundation & Waterproofing have consistently provided exceptional service to homeowners throughout Tennessee, western North Carolina, and northern Georgia since 2007. We understand how to identify water damage and recommend the best solutions for your needs. Protect your home in Knoxville with foundation waterproofing systems such as the SafeDrain™ Drain System. Contact us today for a free inspection!