Protect Your Basement with a Drain System
Basements are prone to water damage based on their location and the way they are built. Installing a basement drain system in your Knoxville can save you a lot of time, money, and headaches in the long run and keep your home dry and healthy. 
Our waterproofing experts have earned a well-respected reputation throughout Tennessee, western North Carolina, and north Georgia. We are proud to be one of the top companies in these areas and will continue to provide top-notch service to all of our customers.  Contact our basement drain system team in Knoxville today to schedule your free inspection!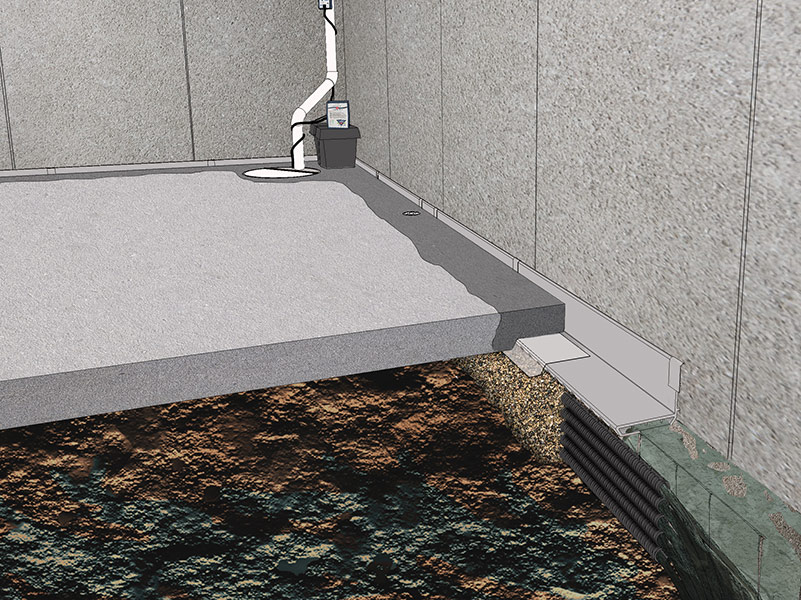 What Causes Water in the Basement?
To properly fix the problem, it's important to understand how water is entering your basement. Water can enter your basement in many different ways, such as floor and wall cracks, plumbing floods, or sump pump failure. Most of the time, however, water enters as a result of hydrostatic pressure. Hydrostatic pressure refers to the pressure caused by water in the soil surrounding your home. Water weighs slightly more than 60lbs. per cubic foot, so when soil around your basement is saturated with water, it can add tens of thousands of pounds of hydrostatic pressure pushing against your foundation. With significant pressure, it's likely that water will find its way through even the smallest crack or gap in your basement, driving groundwater into the basement through gaps and cracks in the masonry—this pressure can even cause seepage through solid concrete. If you notice these problems in your home, our experts at American Foundation & Waterproofing can recommend the best waterproofing solution or basement drain system for your Knoxville home to stop the problem. 
Our Drain Systems
Our team at American Foundation performs extensive research on available products like sump pumps, perimeter drains, and french drain tiles in Knoxville to ensure we are offering our customers the best products on the market. We are proud partners with SafeBasements® and use their drain systems for their unique features and waterproofing capabilities. 
SafeDrain™
The SafeDrain™ Drain System is installed around the perimeter of your basement and attaches to your sump pump system to ensure all water is properly directed outside of your home. It includes a low profile, wider design to allow more water to flow easily through the drain while combating hydrostatic pressure. It also includes a rubber seal which completely seals out moisture and other gasses that come from the earth. 
Multi-Flow Drain Tile 
The Multi-flow Drain Tile is a perforated pipe that is installed level around the perimeter of your basement. This allows the drain to follow a unique process of draining water to ensure all water is drained properly. It maintains a slow and steady drain process to avoid too much pressure buildup against your foundation and connects to your sump pump to drain water away from your home.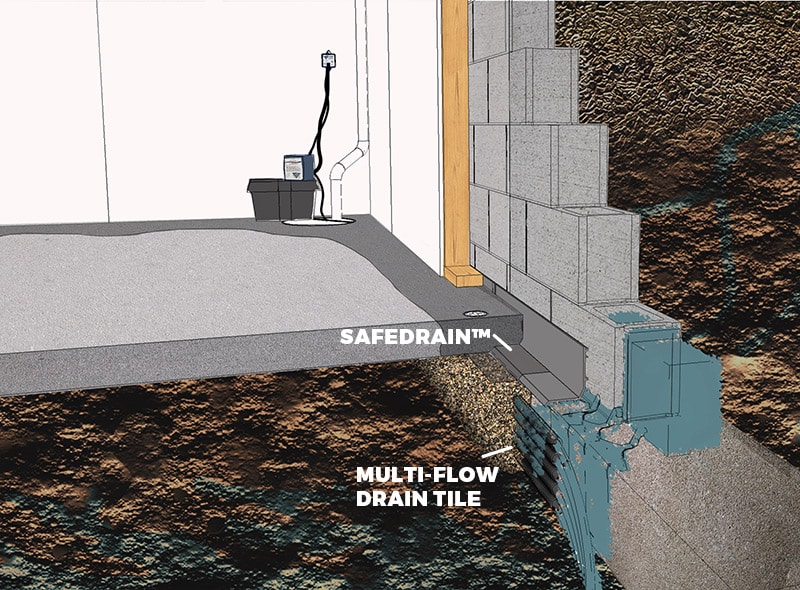 The basement drain systems we install in Knoxville are typically the first line of defense against water intrusion into your home. Both of our systems offer complete water protection to help you avoid getting water damage in your basement. 
Rely on the experts at American Foundation & Waterproofing to protect your basement! Contact us today for your free inspection.