THE SAFEDRAIN™ DRAIN SYSTEM CAN PROTECT YOUR BASEMENT FROM WATER DAMAGE
Basements are prone to water intrusion and damage. It can happen through larger, single instances, such as flooding or heavy storms, but it can also occur through smaller and less noticeable issues, such as moisture seeping in slowly from outside. Both are causes for concern, as the consistent presence of moisture in your basement can result in serious water damage. It is vital to address excess moisture in your basement in a timely manner.
At American Foundation & Waterproofing, we provide basement perimeter drain systems in Bristol & Tri-Cities to protect our customers' properties from water damage. Our experts can help you determine the best waterproofing solutions for your basement. Basement waterproofing works best by combining multiple systems. You can achieve optimal protection by installing both a sump pump and a basement drain tile system in your Bristol or Tri-Cities home.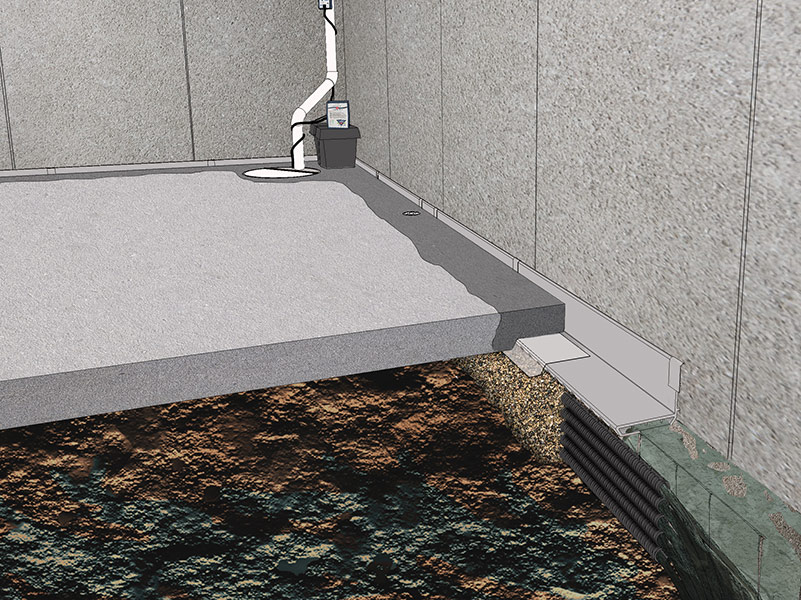 WHY SAFEDRAIN™?
We highly recommend combining your sump pump with a drain system for complete protection. Drain systems attach to your sump pump and work to redirect any excess water from your basement, sending it outside and away from your foundation. They play a critical role in the overall protection of your basement. We recommend the SafeDrain™ Drain System. 
Our technicians install the SafeDrain™ Drain System around the perimeter of your basement. It has a wide, low-profile design. This design allows the water to flow smoothly and reduces the risk of hydrostatic pressure from saturated soil around your basement.
The SafeDrain™ Drain System has the added benefit of a rubber seal, keeping moisture and gasses from making their way from the earth into your basement. After the SafeDrain™ basement drain tile System is installed in our Bristol or Tri-Cities home, you can rest easy knowing your basement is safe from future water damage. 
WHY AMERICAN FOUNDATION & WATERPROOFING?
American Foundation & Waterproofing has proudly served the Bristol & Tri-Cities community since 2007. Our team of basement waterproofing experts assists our customers in finding the best waterproofing solutions for their properties. We pride ourselves on providing exceptional service and the highest quality products. Trust the experienced team at American Foundation & Waterproofing to handle all of your basement waterproofing needs. Reach out to us today to schedule your free inspection for basement drain tile installation in Bristol or Tri-Cities!