KNOXVILLE FLOOR JOIST SISTERING & REPLACEMENT
REPAIR AND REPLACE DAMAGED FLOOR JOISTS IN KNOXVILLE WITH ADDITIONAL SUPPORT
A floor that sags or slopes is often a sign of damage to the floor joists, which undoubtedly raises a lot of concern. However, some Knoxville homeowners may be surprised to learn that damaged floor joists do not necessarily have to result in extensive home repairs. Our floor joist sistering in Knoxville is a simple solution that makes it possible to quickly restore the structural stability of your home. The American Foundation & Waterproofing team in Knoxville can help determine whether floor joist sistering or replacement is the best solution. 
We offer our services to customers throughout Tennessee, north Georgia, and western North Carolina. Our hard work and expertise have earned us one of the best reputations in the business with our joist sistering in Knoxville, and we strive to exceed the expectations of all our customers. Contact us for a free inspection and learn more about how we can repair your floor joists.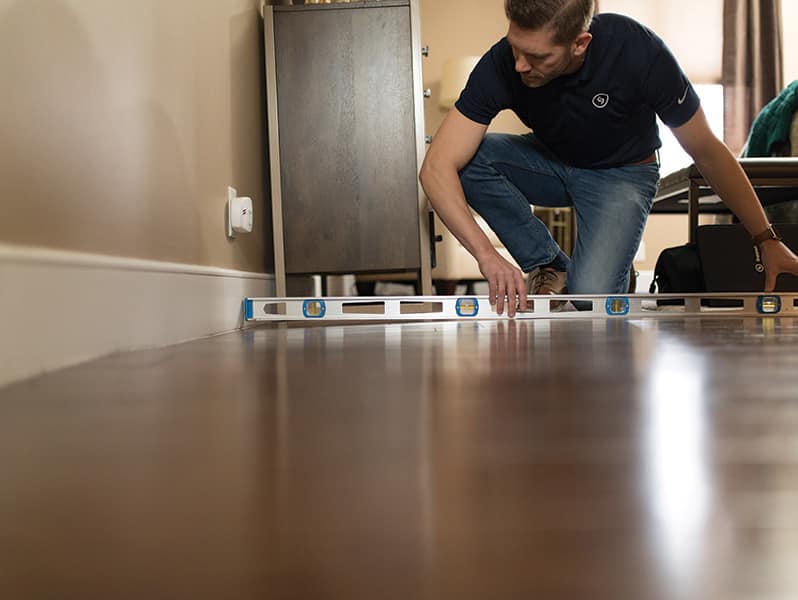 SYMPTOMS OF DAMAGED FLOOR JOISTS
It can be difficult to identify the exact cause of the structural damage in your home because many different things can affect it. If you've noticed any of the following symptoms, it's best to reach out to our joist sistering experts in Knoxville who can correctly identify the source:
A sagging ceiling in your crawl space
Sagging or sloping floors in your home
Damage to interior wood or tile floors
Don't hesitate to contact our team if you discover any unexplained damage in your crawl space or to your floors.
REINFORCING AN EXISTING FLOOR JOIST
When possible, our team can offer floor joist sistering, which is an effective and affordable solution that levels a sagging floor. This process essentially strengthens the floor joists by installing additional wooden beams to the ones that are damaged. When our team uses this joist sistering option, Knoxville homeowners will appreciate the following benefits:
Quick and easy installation
Prevents further damage
More affordable than complete replacement
Long-lasting durability
Before our team begins the process of joist sistering, we'll assess the damaged area to determine the time it will take to complete the project. After the damaged joists are repaired or replaced, your floor will immediately be stabilized to its original level.
When your floor needs repair, trust the experts at American Foundation for joist sistering and floor joist replacement services in Knoxville. Get started today and contact us to learn more about our free inspections.