If your Chattanooga home has bowed basement walls, this is likely caused by hydrostatic pressure. Basements are often at risk for water damage, which can reveal itself through musty odors, water on the floor, and even damp walls.
Hydrostatic pressure around your home in Chattanooga is essentially caused by saturated soil from excessive rain and melted snow. When a home is located against a hillside or slope, water will naturally flow downward and put constant pressure on the basement walls. This force of water can damage the basement foundation over time, which causes the walls to bow inward and crack. Eventually, the basement can flood and the home's structure will be damaged. Our Chattanooga foundation wall and basement repair team are here to provide long-term solutions.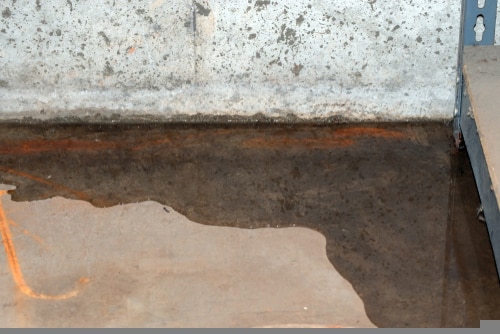 Water in your basement can also be caused by your HVAC system or defective concrete installation. However, hydrostatic pressure in your Chattanooga home is likely the culprit if you've noticed any of these signs: 
Standing water on your lawn - This indicates that your soil is highly saturated.
Dig test - Try digging a hole in your yard that's between 2 to 4 feet deep. If it fills with water, you likely have hydrostatic pressure.
Steady flow of water - Hydrostatic pressure will often cause water to enter your basement from different directions and in steady amounts.
Similar issues in surrounding homes - If your home is affected by hydrostatic pressure, other homes at the same level will probably have similar problems.
SOLUTIONS TO BOWED WALLS
Hydrostatic pressure is a common cause of bowed walls, but there are solutions that can fix this issue. American Foundation & Waterproofing offers the following products and services to address hydrostatic pressure in your Chattanooga home:
Anchors and beams: Our team can install GeoLock™ Anchors behind your basement walls, which will support their weight. Inside your basement, a PowerBrace™ system is installed to give your walls a sturdy base. We may also recommend helical anchors, which help prevent walls from further bowing. These anchors are installed in the ground and used to connect wall plates. Bowing walls in Chattanooga basements can be easily fixed with these solutions.
Drainage systems: We'll address the problem at the source with a SafeDrain™ Drain System, which redirects water away from your home. This system is attached to your sump pump to prevent hydrostatic pressure in your Chattanooga from building up against foundation walls. The Multi-flow Drain Tile is another option that helps establish proper drainage.
CONTACT OUR TEAM
American Foundation & Waterproofing has been serving Chattanooga homeowners since 2007 with our expertise and outstanding service. If you think you may need foundation wall or basement repair services in Chattanooga, contact us to schedule your free inspection!