THE SAFEDRAIN™ DRAIN SYSTEM CAN PROTECT YOUR BASEMENT FROM WATER DAMAGE
Basements are unfortunately prone to water intrusion from multiple sources. Water will make its way in during heavy rain storms or flooding, and it can also seep through the ground from oversaturated soil. Consistent moisture in your basement can result in significant damage if not addressed in a timely manner. 
American Foundation & Waterproofing is here to help businesses and homeowners in the Maryville area protect their basements from water damage. Most waterproofing systems require multiple systems that work together to protect the basement from future water intrusion. So, after removing the water, our technicians will work with you to determine the ideal waterproofing solution for your home or business in Maryville, like a basement perimeter drain system or French drains.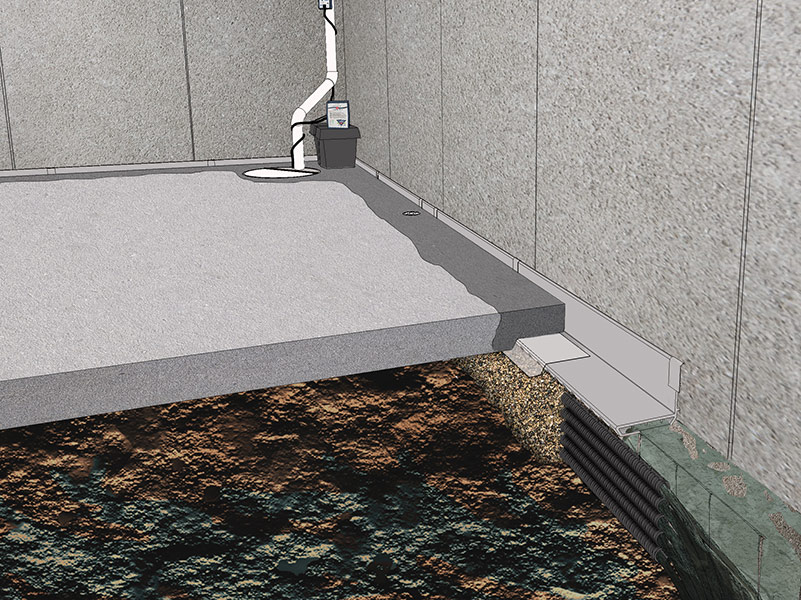 THE SAFEDRAIN™ DRAIN SYSTEM
Our waterproofing technicians strongly recommend pairing your new sump pump with a drain system to help remove any water entering your basement after a flood or heavy rain. These basement drain tiles from our Maryville waterproofing experts will attach to your sump pump and redirect excess water outside your home and away from your foundation. One option we carry is the SafeDrain™ Drain System. This system plays an integral role in protecting your basement from water damage. 
Our Maryville basement drain tile installation team can install the SafeDrain™ Drain System around your basement's perimeter. With a wide, low-profile design, water can flow easily through the drain system while preventing the buildup of hydrostatic pressure. 
An additional benefit of the SafeDrain™ Drain System is a rubber seal that prevents gasses and moisture from seeping up from the earth. Once installed, you can have peace of mind knowing your basement is protected from future water damage.
WHY AMERICAN FOUNDATION & WATERPROOFING?
American Foundation & Waterproofing has proudly served the Maryville area since 2007. Our waterproofing experts work with customers to find the best waterproofing solutions for their homes and businesses. We provide all of our customers with the highest quality products and services, and our extensive experience makes us the best choice for your basement waterproofing needs. Reach out to us today to schedule your free inspection for basement drain tile installation in Maryville!